Tips for giving feedback
Giving feedback helps the student to recognize his/her skills and strengths. It is a good idea to tell the student where he/she has been successful. The workplace instructor should also encourage the student to give feedback. Below are some tips for giving feedback:
Give feedback as soon as possible.
Give feedback on one thing at a time.
Give feedback in private. Positive feedback can be given in front of others.
Give the student a chance to share his/her assessment of the situation.
Justify your feedback.
Give feedback regularly.
Tips for coaching leadership
Coaching leadership is not only about managing things and people, but about encouraging employees to participate and take responsibility. Coaching leadership is goal-oriented, and valuing people and trusting them is the basis of all coaching leadership.
Below are Dan Soback's (2021) principles of coaching leadership:
Create a safe environment.
Guide with questions and listen actively.
Allow and require independent decision making.
Spar and be supportive when needed.
Raise debate about ways of thinking and acting.
Praise and encourage your employees.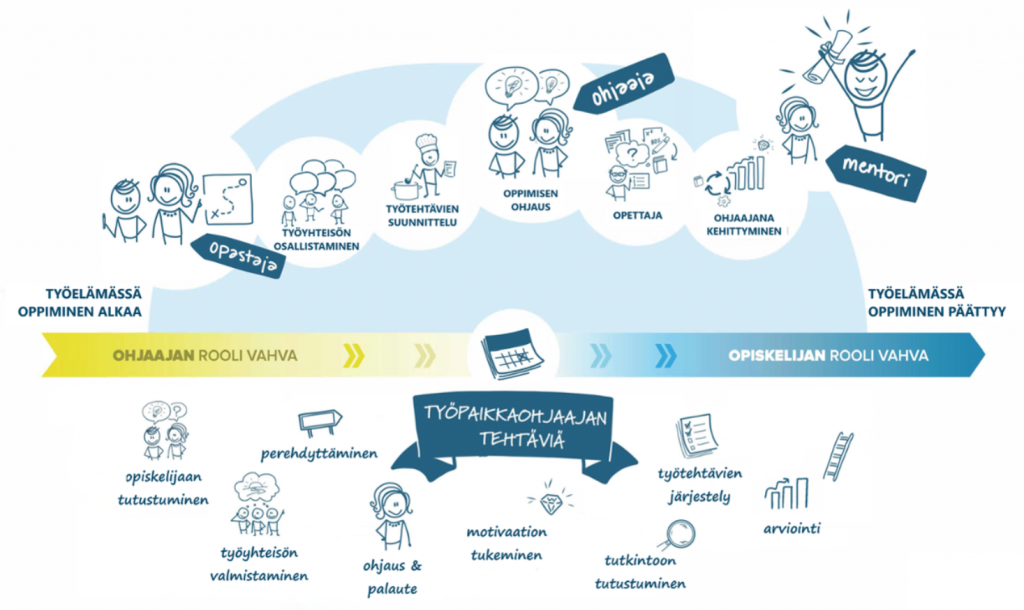 Here you can find an interactive picture of the roles and responsibilities of the workplace instructor in Finnish.
Working life feedback
By giving feedback, you can raise the quality of vocational education and training. Cooperation with vocational colleges helps meet the changing skills needs of workplaces and businesses. By developing know-how, operational requirements and competitiveness are improved.
Feedback is collected from workplaces through a national feedback collection system. Feedback surveys are sent by e-mail to workplaces that have had apprentices or students on training contracts. Feedback on guidance and cooperation with educational institutions is sought from workplace instructors and workplace representatives.
Feedback is also always welcome during the work-based learning period.
Workplace instructor training
Business College organizes free workplace instructor training. The training is meant for employers, those who instruct students in the workplace, and for persons interested in instructing students. The training is organized over a remote connection, and it lasts for approximately one hour. The aim of the training is to provide information about work-based learning, vocational upper secondary qualifications, and about possibilities of cooperation with Business College. The participants will also get an opportunity to share their experiences and tips on everyday workplace instruction.
More information on training sessions, their dates and registration: tyoelamapalvelut@bc.fi.
Additional material
Law on vocational education and training 531/2017 (in Finnish)
Checklist for workplace instructors (in Finnish)
https://ohjaan.fi/en/home/ (Guidance for workplace instructors in English)
Special needs toolbox for workplace instructors (in Finnish)